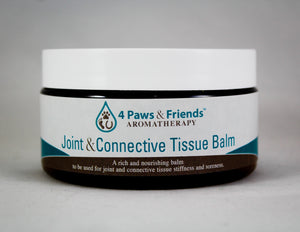 Joint & Connective Tissue Balm: A rich and nourishing balm to be used for joint and connective tissue stiffness and soreness. For dogs, horses & humans.
Recommended use for our Joint & Connective Tissue Balm:
- For post exercise connective tissue & joint recovery.
- For young active or working breeds of dogs during their growth & development phases.
- For older people or dogs with joint stiffness & soreness.
- For sprains, strains and ongoing connective & muscle tissue tension.
Directions of use:  Place 1/4 teaspoon of Joint & Connective Tissue Balm in the palm of your hands.  Massage your hands together then apply the balm to joint and connective tissue areas as needed either once or twice per day. 
Ingredients:  Vitelleria paradoxa (Shea butter), Cocos nucifera oil (Extra Virgin coconut oil), Arnica montana oil (Armica), Rosa mosqueta oil (Rosehip), Symphytum officinale herb (Comfrey), Esquisetum arvense herb (Horsetail), Canananga ordorata oil (Ylang ylang), Matricaria recuitita oil (German chamomile), Lavendula angustifolia oil (Bulgarian lavender), Vegetable glycerine. We grow, nurture and harvest all herbs included within all of our balms.