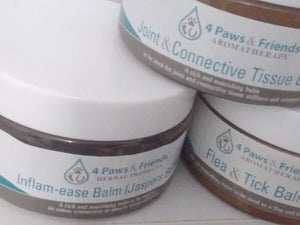 Inflam-ease Balm (Jasper's Balm): A rich and nourishing balm to be used an osteo, connective or muscle tissue calmative
For strained, sprained connective tissue,  muscle tissue or joint tissue either acute or chronic dogs, people and horses. 
Long-term overuse injuries for dogs, people and horses. 
Directions for use:  Massage 1/4 teaspoon of our Inflam-ease Balm around the area or joint if skin is fully intact or close to the site if skin has been broken.  This can be done 1-4 times per day depending on how extensive the bruising etc.
Ingredients:  Vitelleria paradox (Shea butter), Cocus nucifera oil ( Cold pressed Coconut oil), Harpagophytum procumbens (Devils claw herb), Urtica dioca (Stinging Nettle herb), Phyllanthus Emblica herb (Amla herb), Symphytum officinalis herb (Comfrey herb), Arnica montana herb (Arnica herb, vegetable glycerine. All herbs used within all of our handmade herbal soap and balm products are grown,urtured and harvested by us.