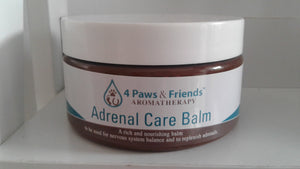 Adrenal Care Balm 250g:  A rich and nourishing balm to be used for nervous system balance and to replenish adrenals. 
Recommendations of use for our Adrenal Care Balm:
- For settling anxiousness or nervousness for both dogs and people.
- For those who are constantly on the go and fit a lot into life.
- For those who are going through unsettling times. 
- For those who feel as though they are in need of support to balance out central nervous system and to nourish adrenals.
Directions of use:   Apply 1/4 teaspoon of our Adrenal Care Balm to either  your belly, armpit area once or twice each day. 
 Directions for use:  Massage 1/4 teaspoon of our Adrenal Care Balm into either belly or armpit areas once or twice a day.
Ingredients:  Vitelleria paradox (Shea butter), Cocos nucifera (Coconut oil), Magnesium chloride flakes, Astragulus membranaceus ( Astragulus herb), Lycium Chinensis  (Lycium fruit), Rhodiola Roseanne (Rhodiola herb),  Ganoderma lucidum ( Reishi mushroom), Passiflora incamata (Passionflower herb), Shisandra chinensis (Shisandra herb), Emblica officinalis (Amla herb), Vegetable glycerine. 
To ensure the highest quality, our herbal balms and soaps include herbs grown, harvested and nurtured by us in our own much loved edible food forrest, medicinal herb garden which was created using Permaculture and Sustainable Agriculture principles.
Shop4pawsfriendsproducts.wordpress.com